Welcome to the Meuse valley: The Meuse melts into the horizon, bewitched by the valley and the typical charm of its villages.
time for a cruise on the Meuse
A trip on the Meuse is above all to live a unique and magical experience. Let yourself be carried away by the rhythm of the river in the heart of magical landscapes, where the steep slopes of the Ardennes rise majestically. There are many ways to enjoy this sumptuous setting, such as by embarking aboard the Charlemagne for a cruise on the Meuse. In this walk on the Meuse, you will discover the whole history of the river, on the French side and on the Belgian side. At each passage of the locks, when the doors open, a magnificent landscape is offered to you.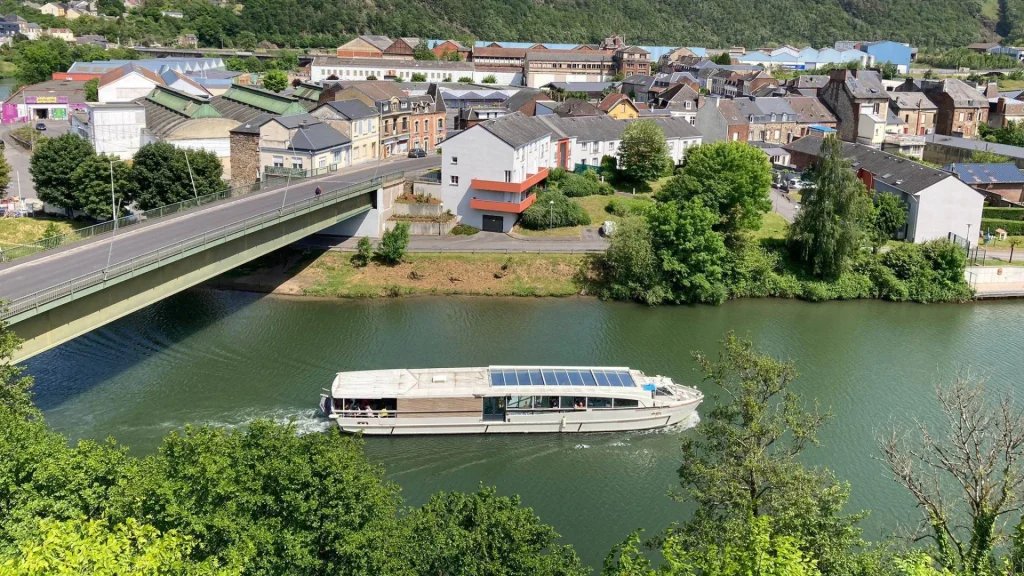 Stopovers in the heart of the Meuse valley
"Enjoy a cruise on the Meuse and its meanders. Let yourself be carried away by the beauty of the landscapes and its natural charms. Drop anchor for the time to discover its towns and villages before resuming your journey along this majestic river. This is what we suggest to you, the time of a stay in the valley of the Meuse". River stops are located in the heart of the towns and villages of the Meuse valley. Revin, Fumay, Haybes sur Meuse, Vireux-Wallerand, Givet welcome boaters. Anchored in a river stop, with a magnificent setting, you will enjoy local shops, activities and restaurants. A gentle stroll on the Meuse which takes you on a discovery of our towns and villages. Don't hesitate to drop anchor in one of the beautiful river stops that mark out your trip on the Meuse.
Alone or accompanied?
The more athletic among you will enjoy a canoe-kayak or rowing trip to take full advantage of the joys of the Meuse. During this time, some will embark on electric boats to pedalos, for a cruise on the Meuse. But everyone will meet again after this outing, enchanted by this natural gem. Sporting events will bring together thrill seekers with the jet ski competition, which takes place on the Meuse, for a weekend.